Due to the Covid 19 pandemic, we are using this Events page to bring you
pertinent information as we receive it, such as meetings that have changed
their status from virtual to physical. Any other virtual events that you
may want to attend can be found here as well. We encourage you to keep
checking in
with us – if only to read the Grapevine Daily Quote or Daily Reflections…

Due to circumstances beyond our control,
the AA Help Hotline phone has changed! 

The new number is:
715-360-4637




Please make a note of it!

😃
---
 The next GSR Business meeting
will be held on Saturday, October 7th, 2023,
 

at 9 a.m. The

Traditions Study will begin @ 8:30.
We will begin voting for District officer
positions at this meeting.

Please consider




attending, especially if you are interested




in a position.  See job descriptions below.




This will be a Hybrid meeting.




You can join in by clicking the link below.




Please be patient in the waiting area.


https://us02web.zoom.us/j/2822613745
Newbold Open Meeting Flyer


Saturday, October 7, 2023




Potluck begins @ 6 p.m. 




See flyer above.
Area 74 Election Assembly

Saturday, October 14, 2023
Quality Inn, Rhinelander WI.
GSR Orientation @ 8:30
Women's AA Sponsorshop Workshop
Sunday, October 1st, 2023, 1 – 3 p.m.
Alano Club, Wisconsin Rapids


Details above.
---
**New Meetings**
There's a Solution Group
Crandon, WI. Thursdays 6-7 p.m.
Held @ "The Meeting Place"- enter
at 100 West Washington, Crandon,
Kitty-Korner from library,
Closed, Big Book Study
Crandon Thursday Meeting

Friday Night "Easy Does It" Group
Crandon, WI. Fridays, 6-7 p.m.
Open Discussion
Location is The Meeting Place,
same as their Thursday meeting.
Friday Night Easy Does It Meeting

Hope Group




Laona, WI. Wednesdays, 7-8 p.m.




See flyer for details and map.


Hope Group Flyer
Friday KIS Step Mtg Flyer
Fridays at 7 p.m. beginning 1-27-23
Immanuel Ev. Lutheran Church
21 W. Timber Dr., Rhinelander, WI.
Thursday Night Big Book Group Study


Changed their time – Now meeting
earlier on Thursdays at 7:00 p.m.
First United Methodist Church
724 Arbutus St., Rhinelander, WI.
Thursday Night Big Book Study Group Time Change Flyer

Sisters of Serenity Group

Women's Discussion/Step Mtg
Thursdays @ 6:30 p.m.
Grace House, N. 3rd St. & W. Somo Ave.
Tomahawk, WI.
---
Neighboring Districts
---
Meeting Guide APP
(Downloading for Android/I-Phone)
Click on the Chair Icon Below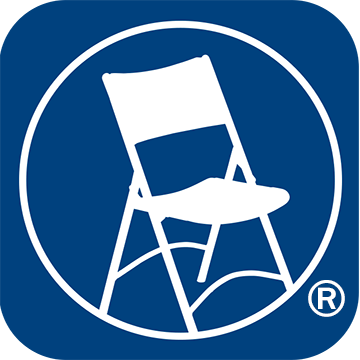 We have updated our Meeting List to make it more inclusive.
You will find a printable version of it and other information here on this site. 
Below are meetings we've left up for you so you may use the links
at your convenience. Thank you for your patience, and please
contact us if you have any changes or concerns. 
---
Zoom Meetings
📞For those who wish to attend zoom meetings via phone, dial one tap mobile:


Dial 1-312-626-6799; Enter the meeting ID (

purple

); when prompted, enter
the password (in blue).
Chix at 6

(Monday nights, 6-7 p.m., closed women's AA meeting)

614717564

[sober]
Monday night

(Woodruff) 7:30-8:30 p.m., closed AA meeting 213928701

 

[sober] 
Tuesdays: Sisters with a Solution,
9 a.m
.
closed women's 12×12 meeting
87870430598
[527684]
This is a Hybrid meeting
Tuesday Woodruff

10 a.m.;10-11 a.m., closed Big Book AA meeting)

989460999

[sober]
This is a Hybrid meeting.
Eagle River Tuesday open Big Book
@7:30; 6979432296
 (sober)
Wednesday night Flambeau

meeting 7-8:30 p.m., closed AA meeting

221952376

[sober]

Thursday

Woodruff 10-11 a.m., closed AA meeting 677605273 [sober]
This is a Hybrid meeting.
Friday morning

Minoqua Meeting 7-8 a.m., open AA meeting 

684125144

 [sober]

Friday: Sisters with a Solution, 1 p.m.
Closed Women's Big Book
8605612312
[171293]
This is a Hybrid meeting.
Saturday 10 a.m.

Woodruff

10-11 a.m., closed AA meeting

134717632

[sober]
---
Daily Reflections
September 24, 2023
VIGILANCE
We have seen the truth demonstrated again and again: "Once an alcoholic, always an alcoholic." Commencing to drink after a period of sobriety, we are in a short time as bad as ever. If we are planning to stop drinking, there must be no reservation of any kind, nor any lurking notion that someday we will be immune to alcohol.
ALCOHOLICS ANONYMOUS, p. 33
Today I am an alcoholic. Tomorrow will be no different. My alcoholism lives within me now and forever. I must never forget what I am. Alcohol will surely kill me if I fail to recognize and acknowledge my disease on a daily basis. I am not playing a game in which a loss is a temporary setback. I am dealing with my disease, for which there is no cure, only daily acceptance and vigilance.
From the book Daily Reflections
Copyright © 1990 by Alcoholics Anonymous World Services, Inc.
Grapevine Daily Quote

September 24, 2023
"I do not agree that the newcomer is the most important member at any meeting … Equally important are those old-timers who showed me the way, and any middle-timer who may be today suffering. If newcomers are indeed the lifeblood of AA, old- and middle-timers are its skin and backbone." 
"Fifth Tradition," New York, New York, June 1970, I Am Responsible: The Hand of AA
---
---
AA
GRAPEVINE
& Your Group
2023 Carry the Message Project
Join your group, district, and area.
Join in. It's easy!

Listen to

Grapevine's Weekly Podcast!
The AA Grapevine Half-Hour Variety Hour
Featuring AA members Don and Sam.
A new podcast episode will be available in English every Monday.
www.aagrapevine.org/podcast


Armed Forces Interview Project
The Trustees' Committee on Cooperation with the Professional Community/Treatment and Accessibilities is seeking A.A. members in the U.S. and Canadian Armed Forces to discuss their experience, strength and hope as sober members of A.A. in the military in recorded anonymity-protected interviews. The goal of this effort is to improve A.A. outreach to members in the U.S. and Canadian military. Interested military members can volunteer or get more information about this project by writing to militaryoutreach@aa.org

---
Try The e-Pub Edition of AA Grapevine Magazine
The e-Pub edition replaces the old Grapevine APP.


The Grapevine Store is integrated for
easy access. It's user-friendly and we hope you


find it a valuable tool for sobriety.


store.aagrapevine.org